View Punya Nagari Newspaper Advertising Rates
USPs :

Best platform for Marathi print ads

Credible news source
Lucrative ad rates
9 Editions
The Punya Nagari Newspaper Group of Maharashtra stands second in terms of circulation in Maharashtra. It has editions in all major cities of Maharashtra.
Ad Options:
Select your specific Supplement and City to get the lowest rates
Category : Main Newspaper Publishing Day : All Days
Punya Nagari is a popular Marathi daily published from Greater Mumbai, Pune, Solapur, Kolhapur, Nashik, Jalgaon, Aurangabad, Nagpur, Akola.
---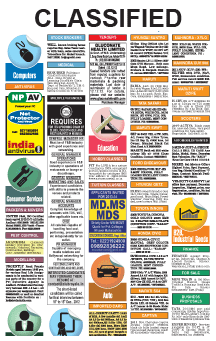 Category : Classifieds Supplement Publishing Day : All Days
Punya Nagari Classified Ads is cost effective and ideal platform to advertise on for Matrimonial,Property,Obituary, Recruitment, Education,etc type customers. Ad cost is calculated based on the number of lines used.
Welcome to the Authorised Online Display Newspaper Ads Booking Service for . You can book ads under the Matrimonial, Property, Recruitment and Obituary sections at discounted prices. Instantly!
• is among the best newspapers of India
• It is also among the most read newspapers in the country, specific to its region of ciruclation
• The reasonable cost of booking ads makes the first choice for many advertisers in India
enables you to publish Display ads under various categories or sections. These categories may be chosen as per your requirement ranging from Announcements and Education to Public Notice and Tender ads.
also provides economical discount and combo packages while booking advertisements through the authorised online newspaper ads booking agent-ReleaseMyAd.
Now with ReleaseMyAd at your service you can book your ad online in just 3 Simple Steps - Select the Newspaper, Compose your Ad, and Confirm the Dates along with the Payment and confirm their release instantly!!!
Authorized Advertising systems of all major newspapers have been incorporated in our services to ensure consistency in flow & availability of dates. All payments made against your ads on the site are handled securely through SSL encryption for maximum protection.
Easy ad booking steps of Navhind Times via releaseMyAd
The Navhind Times is a popular and the first English language newspaper in Goa. After India conquered the former Portuguese colony, The Navhind Times was established on 18 February 1963. It is the largest selling newspaper of Goa. It has a wide circulation as well, 56,000 (2011). So advertising in this newspaper would help advertisers […] read more
Easiest way to Ad booking on Business Standard Newspaper
Business Standard is a daily newspaper of India, under the ownership of Kotak Mahindra Bank. It is published in two languages, English and Hindi. Since 1975, this daily primarily covers news relating to International and Indian business. The English edition of this newspaper is widely circulated all over India, covering New Delhi, Kolkata, Bengaluru, Coimbatore, […] read more
Effortless and Speedy Ad Booking in Asomiya Pratidin Newspaper
Asomiya Pratidin, founded in the year 1995 is the most popular Assamese newspaper. It is widely circulated all over Assam. This daily newspaper has a circulation of 1,78,162. The headquarter is in Guwahati, however, it also has three other editions, such as Bongaigaon, Dibrugarh, and North Lakhimpur. Now, the Assamese folks being rich in culture […] read more
Q. This is a Dist.Court Notice represented, approved/sealed under, by the Court permission, i.e. a "Court Notice" for certain people. How it will be Published in the Local Mumbai Newspaper at a cheaper cost?