View Sandesh Newspaper Advertising Rates
USPs :

No.1 Gujarati newspaper

Best Gujarati print ads platform
Credible news source
Lucrative ad rat
Sandesh is the Leading daily Gujarati newspaper published in Gujarat. The Sandesh Limited is a listed and public limited company with its Head Quarters at Ahmedabad. Book classifieds in Sandesh when to ensure maximum response from Gujarati readers.
Ad Options:
Select your specific Supplement and City to get the lowest rates
Category : Main Newspaper Publishing Day : All Days
---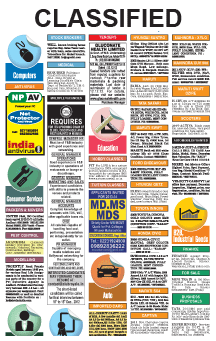 Category : Classifieds Supplement Publishing Day : All Days
Sandesh Classified Ads is cost effective and ideal platform to advertise on for Matrimonial,Property,Obituary, Recruitment, Education,etc type customers. Ad cost is calculated based on the number of lines used.
Category : Appointment Publishing Day : Tuesday-Thusday-Saturday
Welcome to the Authorised Online Display Newspaper Ads Booking Service for . You can book ads under the Matrimonial, Property, Recruitment and Obituary sections at discounted prices. Instantly!
• is among the best newspapers of India
• It is also among the most read newspapers in the country, specific to its region of ciruclation
• The reasonable cost of booking ads makes the first choice for many advertisers in India
enables you to publish Display ads under various categories or sections. These categories may be chosen as per your requirement ranging from Announcements and Education to Public Notice and Tender ads.
also provides economical discount and combo packages while booking advertisements through the authorised online newspaper ads booking agent-ReleaseMyAd.
Now with ReleaseMyAd at your service you can book your ad online in just 3 Simple Steps - Select the Newspaper, Compose your Ad, and Confirm the Dates along with the Payment and confirm their release instantly!!!
Authorized Advertising systems of all major newspapers have been incorporated in our services to ensure consistency in flow & availability of dates. All payments made against your ads on the site are handled securely through SSL encryption for maximum protection.
Book Nai Dunia classified instantly via releaseMyAd
Naidunia is a Hindi language daily newspaper published from Indore, Bhopal, Gwalior, Jabalpur, Raipur and Bilaspur and Delhi. This newspaper is widely read across different cities hence it has a circulation of over 1 lakh copies daily.  So advertising in this newspaper would help you to reach the Indian millennial audience instantly. In Naidunia one […] read more
Tips to book Gujarat Samachar Advertisements via releaseMyAd
Gujarat Samachar is a leading Gujarati newspaper in India. It is published in the states of Gujarat and Maharashtra. It is among the leading English daily with a worldwide circulation. So advertisers who wish to advertise in the northern part of the country can choose Gujarat Samachar classified ads to reach out their target market. […] read more
Book AFR Notice Advertisement in Leading Newspapers
Audited Financial results are an official record of the financial statement of a company which is certified by an auditor. The financial result is the difference between earnings before interest and taxes and earnings before taxes. It is determined by the earning or the loss which results from financial affairs. AFR Notice Advertisement is booked […] read more
Q. I want to give a business ad in Sandesh on last page on Sunday and Monday for once.Please give me the quotation both for the color and BW ad and location is Rajkot
Q. Hi Sir / Madam,Please provide me with Sandesh Public Notice rates for all editions. Thanks and Regards.Dinesh Shinde
Q. I want to give an advertisement regarding our software across Gujarat I would like to know about the different sizes of ads that can be placed in multiple editions of Sandesh so that we can plan accordingly, so request you to provide us with the same.