View Jugantor Newspaper Advertising Rates
USPs :

Circulation over 3L

Among top Bengali dailies
Effective print ad medium
Lucrative ad rates
Jugantor is one of the most popular newspapers in Bangladesh. The reader base of this Bengali newspaper primarily comprises of the rural population of the country. Therefore, Jugantor is a popular choice for newspaper classified advertising in Bangladesh.
Ad Options:
Select your specific Supplement and City to get the lowest rates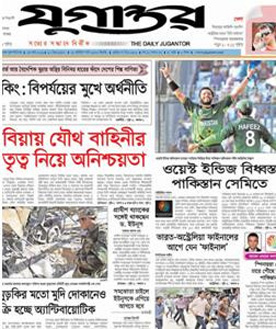 Category : Main Newspaper Publishing Day : All Days
Jugantor is a major daily newspaper in Bangladesh, published from Dhaka in the Bengali language. It is the second largest circulated daily newspaper of Bangladesh. Jugantor is largely popular among rural people of Bangladesh as well resulting in a wide reader base.
---
Category : Classifieds Supplement Publishing Day : All Days
Jugantor Classified Ads is cost effective and ideal platform to advertise on for Matrimonial,Property,Obituary, Recruitment, Education,etc type customers. Ad cost is calculated based on the number of lines used.
releaseMyAd assists its advertisers in a way to get the best response to the advertisements. We take care of your advertisements. We design them and then place the ads in newspaper as per your requirements. We place your ads correctly in pullouts.
is among the best newspapers of India
It is also among the most read newspapers in the country, specific to its region of ciruclation
The reasonable cost of booking ads makes the first choice for many advertisers in India
enables you to publish Display ads under various categories or sections. These categories may be chosen as per your requirement ranging from Announcements, Obituary and Education to Public Notice and Tender ads.
also provides economical discount and combo packages while booking advertisements through the authorised online newspaper ads booking agent-ReleaseMyAd.
Display ads are charged on the basis of per square centimeter unit. Through our exclusive online booking facility, you can book your advertisements in the reputed columns of instantly and easily. The online transaction is made easy for you without the claim of any extra charge for our special services.

Display advertisements have a better visibility and hence every display ad that you book in newspaper is benefited with greater response. These ads can be published on any page of the newspaper; be it RHP, LHS, front page or second page and this option makes them more flexible than any other ordinary newspaper advertisements.
Here's Why Malayala Manorama Classified Ads Are the Way to Go
Malayala Manorama was first published as a Malayalam weekly in March 1890. Today, Malayala Manorama has grown to have a circulation of over 2.1 million copies and caters to a readership of over 20 million people in India and abroad. It is the largest circulating newspaper in Kerala, the third largest in India, and the […] read more
5 Reasons Why You Should Advertise in Deccan Chronicle
Deccan Chronicle is the largest selling the English language daily in South India. Founded by Rajagopal Mudaliar in the 1930s, the newspaper has grown to become a highly respected newspaper in India, with an estimated circulation of over 1.45 million copies across India's southern states of Andhra Pradesh, Telangana, Tamil Nadu, Karnataka and Kerala. Despite […] read more
Meghalaya Guardian Classified Ad Booking Process Now Simplified
Booking classified ads in Meghalaya Guardian now made easy for you! Visit our website, releaseMyAd, to avail exciting buying options. releaseMyAd is an exclusive online marketplace for buying ad spaces on both national and local newspapers. It is the first smart media buying agency of India and has served more than 10 lakh customers. Having […] read more