Book Services Ads for Newspaper Instantly
Discover top newspaper for ads in . View rates & place your ads instantly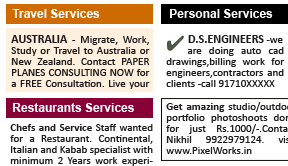 Classified Text Ad(Sample Text. Charges Per line/ Word)
TEXT AD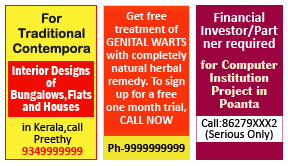 Classified Display Ad(Include image, colour, font variation to your ad)
DISPLAY AD
| | Newspaper | Circulation | Ad Rates starting from |
| --- | --- | --- | --- |
---
Frequently Asked Questions
FAQ
---
---
Why Book Services Ad in Newspapers?
WHY ADVERTISE?
---
Services advertisements are those advertisements which contain information on various services offered by individuals and companies such as pest control, gardening, laundry, tutorials, dance classes, repair and maintenance, event management and so on. Services advertisements are among the most diverse and varied because of the different specialised skills offered by the service providers.

Services ads help users find an individual or an organisation that can help them perform an activity which they lack the resources and the know-how to perform by themselves. Advertising one's services in newspapers has several advantages, which include the following:
Wide Reach

Newspapers are widely read across India and people from all walks of life consume this form of media.

Localised Targeting

Advertising services in newspapers are of immense utility to people who live or work in a particular area.

Helps Create Business Relationships

As service advertisements act as a link between service providers and interested customers, they help to create lasting and mutually beneficial relationships between people.
With its years of experience in the industry, releaseMyAd helps you get your service noticed by your target audience. Book your services ads in newspapers through releaseMyAd and maximise the exposure for the service you offer. Through releaseMyAd and its vast experience and rich expertise, get your service ads in newspapers viewed by the maximum number of people in and expand your customer base. Harness the potential of newspaper advertisements through releaseMyAd to increase your revenue.
---
How to Book Services Advertisement in Newspapers?
BOOKING PROCESS
---
Booking services ads in newspapers through releaseMyAd is quick and easy. Follow these steps to book your services ad in the newspaper of your choice.
Select Ad Type

Choose your preferred ad type - Classified Services Text Ad or Classified Services Display Ad in the Services section.

Select Newspaper and Package

Select the newspaper you wish to advertise in, then select the package from our list that best matches your requirements.

Select Preferences

Do you offer a specific service, such as catering, tuitions or fitness training? Does your organisation do repairs, servicing or maintenance? Let us know!

Write Your Ad

Compose the text for your services ad, enhance with borders or background colours if necessary or desired and check the preview.

Select Dates and Make Payment

Select the dates and the duration for your services ad, proceed towards the payment section. Once you've made the payment for your ad, you will receive an instant email confirming that your payment has been made.

Receive Invoice

Upon successful payment for your services ad, you will receive an invoice with the full details of the ad you have booked with us.
releaseMyAd offers two kinds of services ads: Classified Text ads and Classified Display ads.
Classified Services Text Ads are the simplest ad format and consist of plain text advertisements. Classified Services Text Ads are charged according to the number of words and the number of lines used.
Classified Services Display Ads include richer formatting for your ad text such as colours, a variety of typefaces as well as images or graphics. Classified Business Display Ads are charged on the basis of square centimetres occupied.
releaseMyAd is India's largest online self-service advertisement booking platform enabling people to book their services ads in newspapers. Combining years of media buying experience, historic ad pricing data and a pan-India network, releaseMyAd guarantees you the lowest quotes for your ad requirements. Book your services ad in newspapers through releaseMyAd from anywhere at any time through any device - a computer, mobile phone or tablet.