How are Newspaper Classified Ads Priced ?
Newspaper Classifieds is the primary advertising platform in India. The basic reason being the extensive reach and economical rates. It is the most cost effective way to reach one's target audience. The newspaper classified ad rates depends on the circulation of the newspaper, edition, color, content size, content type and enhancement additions.
Classified Text Ad
Know More
It is the most cost effective forms of advertising in any Newspaper. The Ads appear in the classified section in the standard running text format. Rate is charged per Line/Word/Character basis. Enhancements like tick mark, color, bold font, border lead to extra charges.
---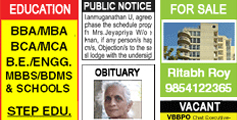 Classified Display Ad
Know More
It is more visually appealing than classified text ads.Here one can add customized font, color, logo or image to make the ad visually more effective for the target readers. These ads are charged on the basis of per sq.
Newspaper Advertising Rates
Why releaseMyAd?
How to book an Ad?
Book an Ad
Newspaper Advertisements have been around longer than any other form of advertisement we see nowadays.Surprisingly being the most traditional medium,it is the first preference of every advertiser.The reason is that readers trust on newspapers has a strong holo effect on the advertisements published in it.Newspaper's various sections provides readers with profound information and stimulates the minds of the readers.This enables advertisers to reach the right audience, who are receptive to the Ad messages.
Advertising in newspaper is the best choice to receive the desired response only if it is cost-effective and efficient.Getting the best rates for newspaper advertising is a challenge in itself.releaseMyAd, the leading newspaper ad agency of the country helps individuals and businesses to avail the lowest rates for their classified and display across all the newspapers of the country.Being an INS accredited agency and bulk media buyers we offer the most amazing rates for your newspaper Ads.Avail the latest newspaper advertising rate card with a pool of offers & discounts only via releaseMyAd.
Additional Information
About releaseMyAd