Classified Display Ads can now be booked Online in any Leading Newspaper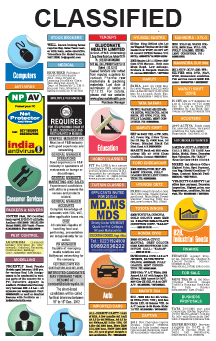 DESCRIPTION:
Newspaper classified print ads booked online instantly at no extra cost. All leading newspapers available for placing ads under matrimonial,property, recruitment column. Best discount offers, convenient online & offline payment mediums. For hands on assistance use Live Chat or Call 09830629298.
HOW ARE ADS PRICED?
The toll for these advertisements is calculated on a per square cm basis.Enhancements like tick mark, color, font style, border, image/logo leads to extra charges.The minimum height and width differs from publication to publication
Classified Display Ads, also known as column ads and are printed on the classified pages of the newspaper. They are very similar to standard text ads but also contain images, company logos, designs etc for superior visibility. The minimum ad size for Display classified ad is 3x5 cm.It gives freedom to advertiser to design their own ad according to their choice using different font, images and logos.